Minnie Merchandise update: new Sailor Dog range
Woofings!
I have been busy tidying and re-stocking the shelves in the Minnie Merchandise store. Here's what's happening…
No more clothing…
Due to problems with sizing, I am in the process of discontinuing clothing products (t-shirts, etc.).
Whilst the clothing is lovely quality, it's sometimes hard to get the size right. I want you to be 100% happy with your Minnie Merchandise, so I thought it was best to take this step.
Pawsome new Sailor Dog designs and pawroducts!
To fill the space on the shelves, I've added some new pawroducts and designs, based on the Sailor Dog Vacation theme!
Sailor Dog greeting cards
There are some new greeting cards, including this Sailor Dog 'bon voyage' card: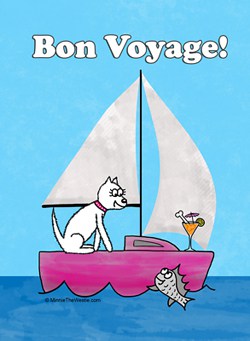 See all Greeting Cards and Christmas Cards.
Sailor Dog home and office range
There's lots of Minnie Merchandise for home and office. Aren't these Sailor Dog playing cards just gorgeous?!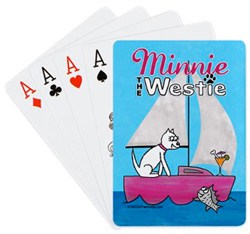 My pawsonal favourite are the Sailor Dog Vacation beach towels… mum has just ordered 2, I hope that one of them is for me!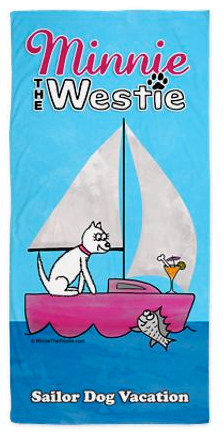 See all Minnie The Westie's home and office products here.
I will be adding more Sailor Dog gifts and pawroducts over time, so check out my store whenever you need to get a gift for a dog lover (or for yourself!).
See all the Minnie Merchandise at my CafePress store
You can visit my store here: http://www.cafepress.com/minniethewestie
It is a CafePress store, and there is a 100% satisfaction guarantee on all the products. Mum and I buy them from time to time to check on the quality – it's important to us that you are delighted with your Minnie Merchandise! If not, please contact CafePress within 30 days for your money back.
Go on, treat yourself or a loved one today!
Head on over to: http://www.cafepress.com/minniethewestie
Wags 'n' nose licks,

To link to this post, use: http://www.minniethewestie.com/minnie-merchandise-update-new-sailor-dog-range
---
Do you enjoy Minnie the Westie cartoons?
Treat yourself (or a loved one) to a book full of smiles!
Go on, buy someone a smile today! 🙂