Westie gifts and westie cards for the holidays
Are you looking for some pawsome Westie gifts and Westie cards for your furiends?
There is a cute range of Minnie The Westie stuff available for dog lovers of all ages!
Westie Gifts:
The Minnie The Westie gifts range includes:

Compact mirror
Hip flask
Throw pillow
Keepsake box
Jigsaw puzzle
Mousepad
Christmas stocking
Reusable shopping bag
Tile coaster
Sweatshirts
Nightwear: for kids and women
T-shirts: for infants, toddlers, kids and women

Westie Cards:
Available individually or in packs of 10 or 20.Lots of different designs and wordings to choose from.Shop for Westie cards.
Minnie The Westie book
My cartoon book makes a great gift or stocking filler: here are the links to some of the most popular online bookstores:
My cartoon book has had pawsome reviews on Amazon.com!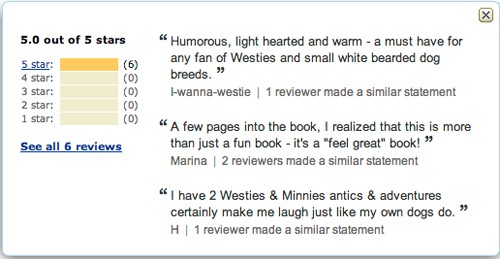 Minnie the Westie gifts: there's something for everyone!
Gifts and stocking fillers from US$9.50… there are cute Westie gifts for dog lovers of all ages!
| | | |
| --- | --- | --- |
| | | |
| Wallets and Cases | Bags | Water Bottles |
| | | |
| | | |
| Women's Clothing | Kids' Clothing | Bibs and Infant Wear |
| | | |
| | | |
| Journal | General Cards | Keyring |

Hint: Minnie Merchandise ships from the USA. If you live outside of the USA (like me), you'll need to order them very very soon. Snail mail takes a few weeks to arrive, and the closer it gets to Christmas, the slower the poor snail gets…
Go on, share some Westie smiles this Christmas!
Wags and nose licks,

PS. I can confirm that the Westie gifts and Westie cards are fabulous!
Mum and I have purchased numerous products and they are great quality. And if for any reason you're not 100% happy, there's a Satisfaction Guarantee with 100% Money Back.
To link to this post, use: http://www.minniethewestie.com/westie-gifts-and-westie-cards-for-the-holidays