"Fetch"! … What happens next?
Do you like to throw balls and toys for your dog – and expect them to "fetch"?
Yeah, my humans do that sometimes.
And sometimes it's fun… like, when there are noms involved. So my rule is "no noms, no fetch!" Simple.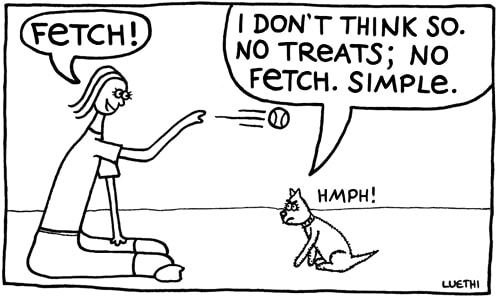 Even then, I do the fetching on my own turns. Running with a full belly isn't very comfortable, so I'll only fetch until I'm all nommed out.
You have to make these things work for you, y'know!
Nose licks (nom-scented ones),
Love from
PS. Mum used to have a Scottie dog when she was younger. She says that the Scottie could NEVER be bribed into fetching. Whenever mum threw a ball, the Scottie would give her an indignant look, saying "well, if you want the ball, you shouldn't have thrown it, you silly woman. Get it yourself!"
BOL!!! I think this Scottie was wise too! Us terriers are very wise!
To link to this post, use: https://www.minniethewestie.com/fetch-what-happens-next