Westie cartoon: Westies aren't scaredy-cats!
Woofings!
This is another brand-new, never-seen-before westie cartoon from my (forthcoming) second cartoon book!
(The new Minnie The Westie cartoon book will be out in the next couple of months – make sure you get my free Minnie Mail updates to be the first to know!)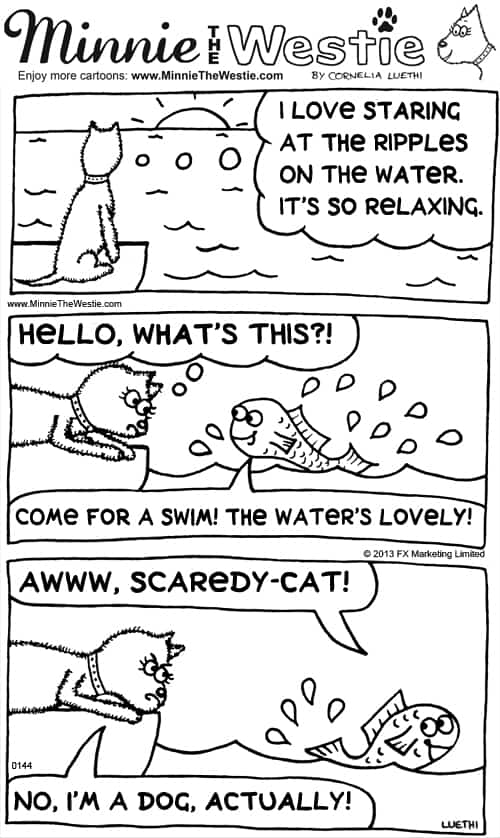 Notice in my westie cartoon that I'm more offended about being called a "cat" than the "scaredy" bit! Just because I'm little and cute and furry! *gets all indignant*
The reason I'm a bit defensive about this is because mum and I regularly visit a local care home. (We volunteer for Outreach Therapy Pets: you can see photos of the 'real' Minnie visiting the care home here.) Many of the care home residents have dementia and are a little confused. Some of them call me a "pussy cat". I will put up with it, provided they give me a nice belly rub! BOL!
Hint: Want to see another brand new cartoon from my forthcoming book? Here's the very first one I posted on my blog.
Till next time!
And watch this space for more news on my new book! *wags* 🙂
Love 'n' nose licks,
To link to this post, use: https://www.minniethewestie.com/westie-cartoon-westies-arent-scaredy-cats
About Minnie The Westie:
Minnie The Westie is the star of the dog cartoon book, Minnie The Westie: The Adventures Of A Cartoon West Highland Terrier Cartoon Dog. It's available as a Paperback book from online bookstores, and Kindle eBook from Amazon. It contains 85 black-and-white Minnie The Westie cartoons.
Shop for Minnie The Westie's book at Amazon.com, Amazon.co.uk and The Book Depository (with free shipping worldwide).
---
Next step:
Get a Minnie The Westie cartoon emailed to you each month with Minnie Mail – it's free and fun! You can sign up here (or click here for more details):